Healthy Hydration Store
 The Hydra-Home Unit is a versatile hydrogen water system that offers an LCD touch screen for real-time data display, three levels of hydrogen water, and a negative ORP display. It provides purified water, warm hydrogen water for skincare, and ozone water for cleaning and sanitizing. With a fast flow rate, self-cleaning mechanism, and built-in filter, the Hydra-Home Unit ensures convenient and high-quality hydrogen water for a healthier home.
PRODUCT ID: 7871043961065
Regular price
Sale price
$2,595.00
Unit price
per
Sale
Sold out
Share with Family & Friends
View full details
Alkaline Ionized water or Hydrogen Water what is the is best for you?  

Did you know that Alkaline Water Ionizers were designed to make Alkaline Water and not Hydrogen Water?  The reason for this is because it was not well known until recently with over 2000 or more studies proving that it is the molecular hydrogen in the alkaline ionized  water that was and is responsible for any and all therapeutic benefits. 
Why is the Hydra- Home unit different then Alkaline Ionized Technology?
The Hydra-Home uses SPE/PEM technology: 
SPE- Solid Polymer Electrolyte is a membrane used that is embedded with electrolytes and allows hydrogen to freely pass though the membrane.
PEM- Proton Exchange Membrane is conducive it self and does not rely on source water with high concentration of calcium or other hard minerals to produce molecular hydrogen.
Benefits:
Less water consumption is required due to higher concentration levels of molecular  hydrogen to receive the therapeutic dose.  
Consistent levels of Molecular Hydrogen 
Higher concentrations levels of Molecular Hydrogen 
Little to no maintenance 
Ph levels are in healthy range and much less likely to scale and build up with calcium 
Alkaline Water uses Electrolysis Technology: 
Highly dependent on source water you must having enough minerals to conduct electricity in order to make hydrogen gas. 
Lower concentration of hydrogen gas
The pH water tends to go above 8.5ph putting the customer at risk for hypokalemia and other health risks according to the environmental protection agency, and the world health organization.
 Very large volume of water is required to get a benefit. 

No dissolver technology that helps the stability of the Hydrogen once it gets into the water.  
The hydrogen bubbles that are produced are too large to be dissolved into the water
 Promotes scaling and calcium precipitation 
Fine-tuning the flow rate in order to get better Hydrogen production. 
Weekly maintenance  due to the mineral concentration build up.
Ozone Water Benefits 
Great for washing fruits and vegetables killing various bacteria, fungi, algae and parasites 
Add a few gallons of ozone to your laundry for that clean fresh smell and save on laundry soap.
Try brushing your teeth for a whiter brighter healthier smile.
Give your skin the healthy flawless glow by spraying your skin with ozone when getting out of the shower.   
Product Quality and Testing
Healthy Hydration goes above for their consumers providing 3rd party testing and certifications insuring that the Hydra-Home unit produces therapeutic levels of Molecular Hydrogen as well as water quality testing to insure safety and quality. 
Healthy Hydration is proud to announce its latest certification from H2 analytics 
(Results Here)
Maintenance and Warranty  
User friendly- filter change  every 2000 liters (6-12 months average) average cost $89.00
Self cleaning mode with a push of a button.
 (5 year warranty)  
Installation 
The Hydra-Home unit comes with installation accessories designed for the standard faucet installation or wall mount. Available to purchase is the diverter faucet kit for that sleek clean counter top look.  
Same day shipping, video step by step installation guide,  pre-filters available for water conditions that are less than except-able.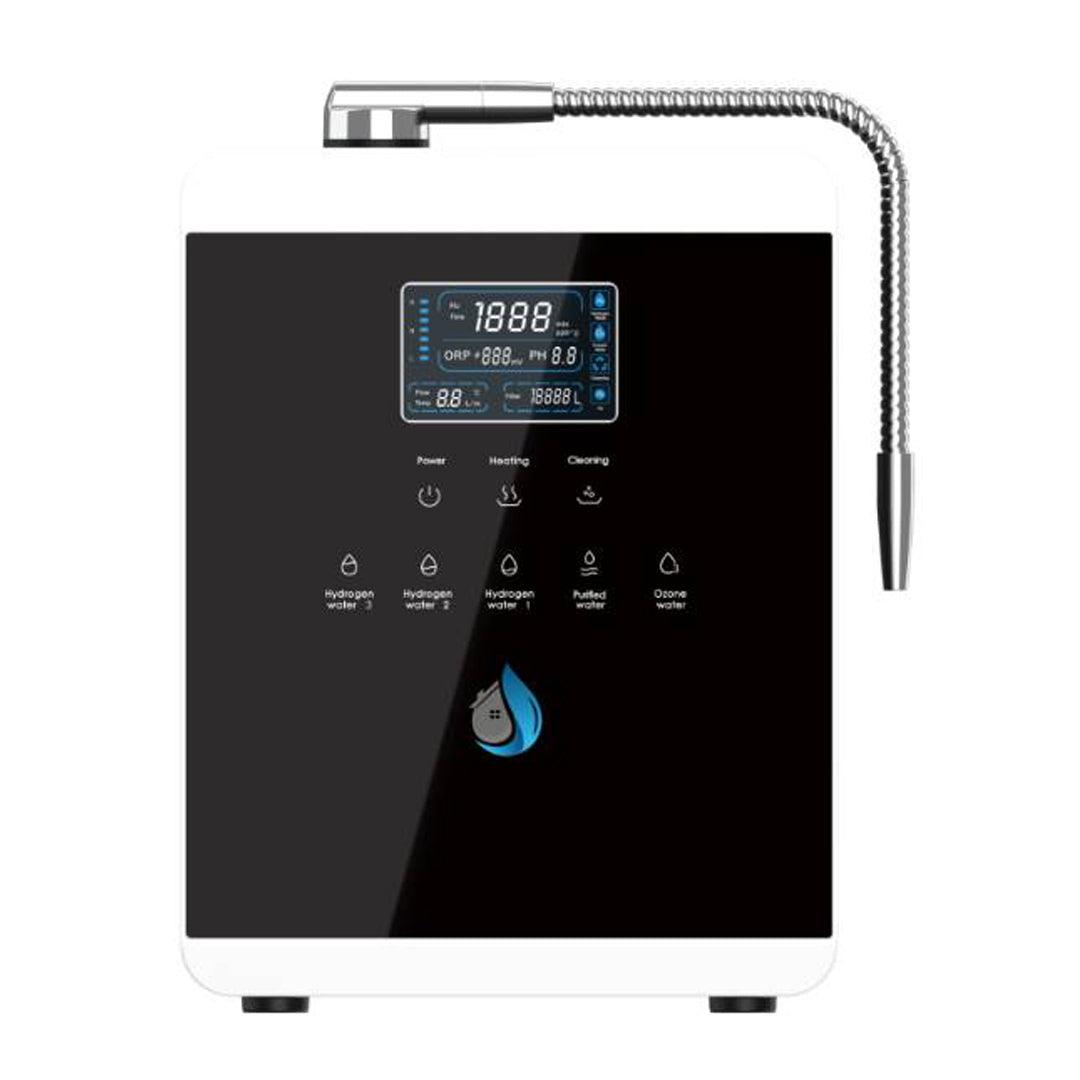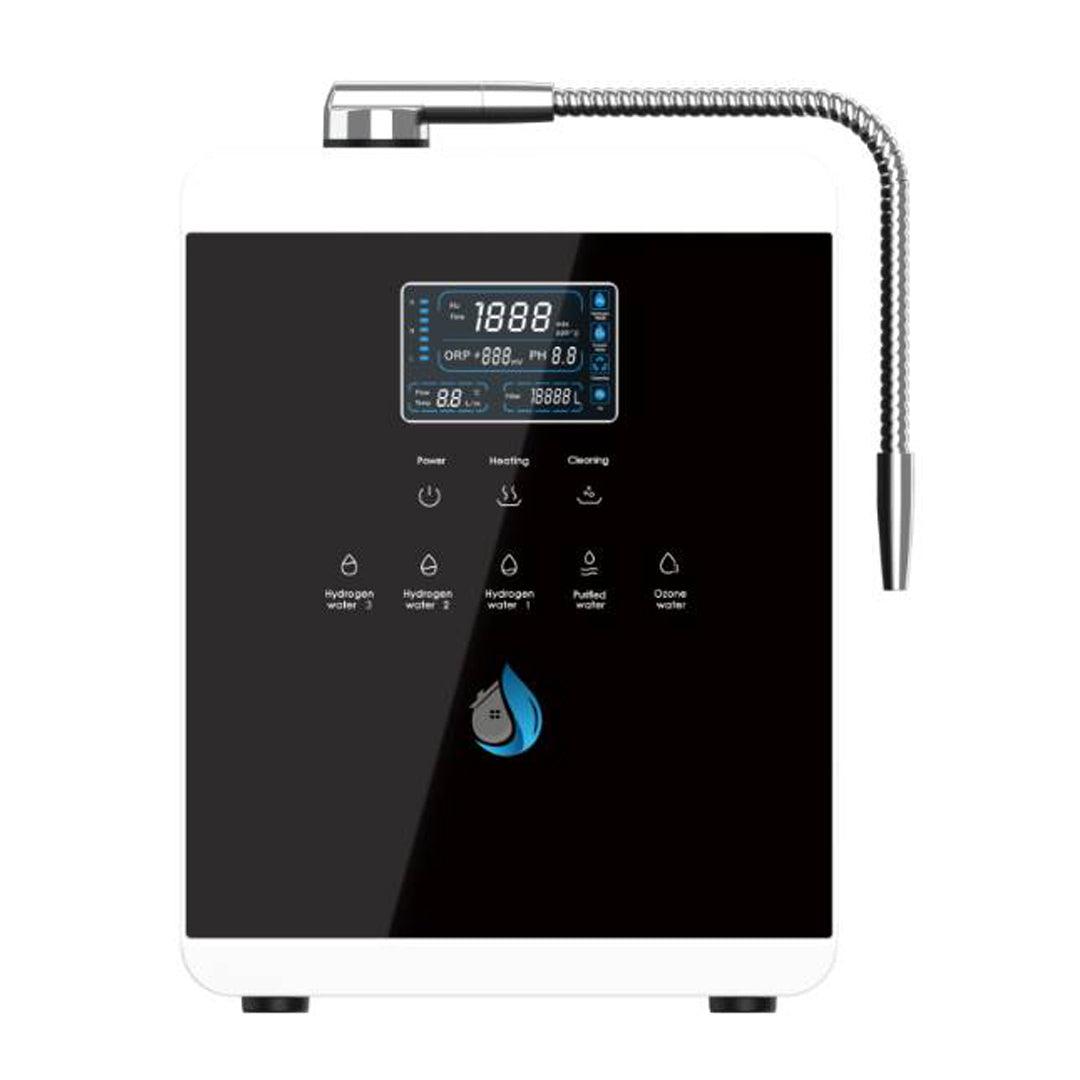 Upgrade Your Home Water Experience!
Upgrade your water experience with the Hydra-Home Unit. Its LCD touch screen keeps you informed with real-time data. Choose from three hydrogen water levels (400PPB-1500PPB), tailored to your water source. Enjoy purified water, warm hydrogen water for skincare, and ozone water for cleaning. With fast flow, self-cleaning, and a compact design, it's easy to install on a wall or countertop. The built-in filter removes impurities, and a pre-filter adds extra protection (pre-filter sold separately). Elevate your hydration with the Hydra-Home Unit.
The Science
What is Contaminated Water?

Outdated water quality standards pose a risk as they fail to address emerging contaminants like lead, chlorine, fluoride, and arsenic, leading to significant health hazards for humans and animals, including mild symptoms like nausea or more severe ones like kidney damage or cancer. It is important to know what exactly is in your drinking water to make sure you are not taking in any of these contaminants.

What is Safe Drinking Water?

Water contamination refers to the presence of harmful substances or pollutants, making it unfit for consumption or usage. One prevalent contaminant is PFAS, a man-made chemical commonly found in various consumer products. PFAS is persistent, accumulating in both the environment and the human body, and has been associated with adverse health effects that can lead to kidney disease and cancer.

What is the Best Water Purification System?

Experience the pleasure of safe, clean water in every place in your home, while effectively reducing hard water scale and eliminating chlorine and contaminant exposure. Enjoy the benefits of improved well-being, including lowered oxidative stress, enhanced immune and gut function, increased energy levels, and faster recovery, all supported by a wealth of over 1,000 scientific studies. Start improving your health and quality of life through Hydrogen Water!
Real People, Real Reviews
This Water is Healing!

Ever look for something for so long and have it come to you? This water is healing. Had it for about 3 months now. No issues, no complaints, Amanda even helped me set up the water cause I had a unique faucet. super grateful to have clean water me & the fam can drink. thank you Amanda. -Decaff

I love my Hydrogen Water!!

I love Hydrogen water and I want everyone to know the health transformation it can do for us. I do not get headaches no more and I have so much energy and is that for nothing, I know it is not so. I am very excited to be an affiliate and to join the healthy hydration team. -Sonia

My Family Loves Our New Water System!

Super nice staff came out and hooked this system up! They were very professional and easy to do business with. My family loves our new water system. -Susie
Hear How Hydrogen Water has Changed Jim's Life
What Makes Us Different
Lower Oxidation Stress

Immune Boost

More Energy

Faster Recovery

Science Backed
FAQ
Is Hydrogen Water Safe?

Yes! Hydrogen water has been proven safe and effective for all. With over 2000 studies and no side effects at any level
Is Hydrogen Water Alkaline

Alkaline Water has a higher PH level than Hydrogen Water. However it is now well known that the only reason to drink Alkaline Water is to absorb the hydrogen in the alkaline water. Now over 10 years of research has been released stating that there could be a risk in drinking Alkaline Water, and that its much more effective to drink Hydrogen Water only with no change in the PH value of the water.